The Irish ALS/MND Register
To enable effective research in ALS/MND, we require detailed information about the incidence, prevalence and clinical features in the Irish population. The Irish ALS/MND Register was founded in 1995 and it now has information on over 2,200 patients. The aim is to include everyone diagnosed with ALS/MND each year in the Republic of Ireland. This data informs all other research projects carried out and is the cornerstone of the Irish ALS/MND research group.
The Register is now the longest running of its kind in the world, and we are frequently asked for advice by people from other countries who are interested in developing a similar research resource.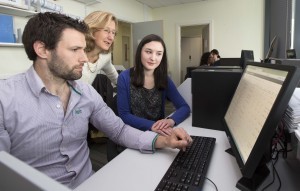 Some of the important features of the Irish register include:
Our ability to determine whether the rates of the disease are increasing.
Our ability to determine whether the age of onset is changing and whether people are living longer.
Our ability to map the disease and identify areas of low and high incidence and prevalence.
Our ability to test for clustering of the disease in specific regions.
Our Register is closely linked with other Registers in Scotland, Holland, Germany and Italy, through our European Research Consortium (European Network for the Cure of ALS – ENCALS). Together we can map the disease across Europe and search for genetic and environmental causes.
For further information please contact Mark Heverin or Colm Peelo (01 8964376 or 089 4123308)
Researchers: Mr Mark Heverin and Mr Colm Peelo
Principal Investigator: Prof. Orla Hardiman
Funding:  Health Research Board,  Research Motor Neurone, European Union Framework 7 (EUROMOTOR) and JPND