The Beaumont MND Clinic
I started the MND Clinic at Beaumont Hospital in 1994. The clinic began in collaboration with the Irish Motor Neurone Disease Association, and was originally staffed by myself and Bernie Corr, Clinical Nurse Specialist in MND. Since then, the clinic has grown in size. We now have specialists in Physiotherapy, Occupational Therapy, Speech and Language Therapy and Nutrition, and have access to Respiratory Medicine and Palliative Care services. The clinic takes place on the second, fourth and fifth Thursdays of the month, starting at 11.30 and running until around 8.00pm.
Everybody is seen by myself, with one or two Research Fellows in attendance if the patient permits this. We do not have junior house staff in attendance at the clinic. We receive referrals from all over the country, and pride ourselves on having a waiting list of less than 2 weeks. The ethos of the clinic is that while MND is a tragic and life-threatening condition, we must recognize that life is to be enjoyed, and quality of life preserved, regardless of the disability. We believe that visit to the MND clinic should be a positive experience, and our aim is to ensure that everybody who attends leaves the clinic feeling better than when they came in. We value personal interaction, friendship, flexibility and humour.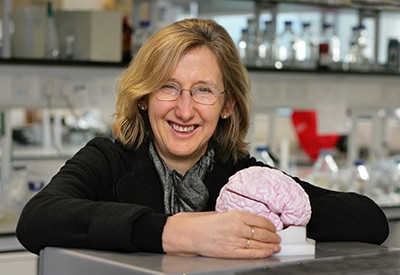 Anybody with MND is welcome to attend the clinic, once we receive a referral from a general practitioner. We are delighted to see people for a second opinion if the person with MND, their consultant and / or their general practitioner requests this. And as we appreciate that travel to the clinic can be arduous for those living outside of Dublin, we frequently co-manage people with their local neurologists. We also provide home visits by our Specialist Nurse (Bernie Corr) and or Research Fellows, all of whom are carefully chosen experienced doctors with a special interest in MND, a warm and empathic personality, and an understanding of the importance of maintaining the ethos of what we foster.
Prof. Orla Hardiman
Charity Number: CHY 17822
Registered Charity Number: 20067076