Genetics
Background
The entire set of instructions for how to make a human is contained in a small number of molecules in almost every cell in the body.  These molecules are collectively called a person's genome, and the substance from which this is made is called DNA.  Sometimes the instructions can contain errors, known as genetic mutations, and it is likely that certain genetic mutations play a key role in the cause of ALS.  Although many of the responsible mutations have already been discovered, we have recently found that only around 10% of cases of ALS in Ireland can be explained by known mutations.  Many unknown genetic risk factors therefore remain to be discovered.  A better understanding of the genetic causes underlying ALS is vital for the development of effective therapies.
Aims
Recent technological advances in DNA sequencing mean that we can search for mutations in large portions of the genome in a large number of patients simultaneously.  This makes us more likely to discover the cause of ALS in these patients.  A vital resource for this research is our DNA bank which now contains more than 1,500 samples from patients collected over the past three decades.  We also use DNA collected from people unaffected by ALS, known as controls, against which we compare our findings from patients.  This bank of DNA samples from patients and controls is a tremendous resource for all kinds of projects researching the genetic cause of ALS.
We are currently engaged in several projects to better understand the genetic causes of ALS. Through Project MinE, the world's largest ALS genome sequencing initiative, we are profiling all of the genetic sequence in the genomes of over 1,000 Irish people, two thirds of which have ALS. This will enable us to detect rare and unobvious genetic mutations that increase a person's risk to get the disease. We are also actively engaged in seeking out the role of an unconventional class of mutation known as repeat expansion in increasing disease risk. Finally, through large international collaborations, we are determining the role of common genetic variants in ALS, and how these interact together and with environmental factors to cause disease.
Participation
Patients (and unaffected individuals) can contribute to this research by simply donating a blood sample, from which DNA is then extracted. For the most part, this is carried out during a routine visit to the MND outpatients' clinic at Beaumont Hospital, Dublin.
Our research can also be supported by making a financial donation to Project MinE.
A recent presentation of some of our Genetics work can be found by clicking the following link:
The clinical significance of ALS and FTD associated genetic variation: a comprehensive, uniform analysis of three decades of genetics research
Researchers: Assistant Professor Russell McLaughlin, Ross Byrne (PhD student), Mark Doherty (PhD student), Jenny Hengeveld (PhD student), Ciaran Kelly (PhD student)
Principal Investigators: Professor Orla Hardiman, Assistant Professor Russell McLaughlin (Smurfit Institute of Genetics, TCD)
Funders: MND Association, Science Foundation Ireland, Research Motor Neurone
Neuropsychology
Research has established that approximately 50% of people with ALS develop some changes in the way they think (cognition) or behave, with approximately 13% of people with ALS developing dementia. The type of dementia associated with ALS is called frontotemporal dementia.
Research Motor Neurone is committed to understanding the nature and extent of these cognitive and behavioural changes. In the MND outpatients' clinic at Beaumont Hospital we administer a short cognitive assessment, known as the Edinburgh Cognitive and Behavioural ALS Screen (ECAS). Family members are also asked to complete a short questionnaire, called the Beaumont Behavioural Inventory (BBI), to examine if the patient has had any behavioural change. The outcomes of these assessments are used to help understand the trajectory of cognitive and behavioural change in MND patients and informs the basis of a lot of the research that is carried out under Research Motor Neurone.
Patients are sometimes asked to complete full neuropsychological assessments of language, memory, attention and other thinking abilities, which provide deeper insights into the nature of these changes in patients with MND.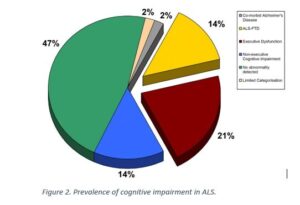 A recent study, carried out by the Irish MND research group, examined the role of education, occupation and physical activity in protecting against cognitive change in ALS. These three factors are hypothesized to contribute to an individual's cognitive reserve, which enables an individual to remain cognitively healthy. The study found that individuals with higher cognitive reserve remained cognitively healthy for longer.
Another ongoing research study is being carried out on first- and second-degree relatives of ALS patients. The goal of this project is to uncover if ALS relatives share certain characteristics (called endophenotypes) with ALS patients. This study will hope to inform genetic studies. Participation in this study involves the taking of a blood sample, an online questionnaire, and a 2-hour neuropsychological assessment, as above. You can find more information about this study in the 'Epidemiology' section of the Current Research page of this site.
Neuropsychology plays a very important role in our current Epidemiology and Patient and Caregiver Experiences research and the Neuropsychology Research Team collaborates closely on our MRI, EEG, TMS and genetics research themes.
A recent presentation of some of our Neuropsychology work can be found by clicking the following link:
Cognitive Reserve in Amyotrophic Lateral Sclerosis (ALS): A population-based longitudinal study.
Researchers: Emmet Costello, Colm Peelo, Ciara Brennan
Principal Investigators: Professor Orla Hardiman, Prof Niall Pender (Principal Clinical Neuropsychologist, Beaumont Hospital)
Funders: MND Association, ALS Association, Science Foundation Ireland (SFI)
Volunteering: If you are interested in taking part in this type of research, as a patient or healthy volunteer, contact Mark on 01 8964376.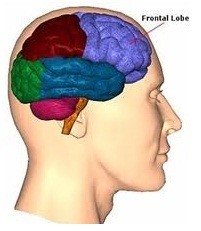 Epidemiology
Epidemiology is the study of how often diseases occur in populations and what factors may alter an individual's risk of developing a certain disease. Using data from the Irish ALS register, epidemiology studies have found that the incidence of ALS in Ireland is stable, with approximately 3 people per every 100,000 newly diagnosed with ALS every year.  However, due to the poor prognosis of the condition, only 300-400 people are living with ALS at any one time in Ireland. While it was originally thought to be a disease purely affecting the motor nerves, recent studies have identified that over 60% of people with ALS develop some changes in the way they think or behave, with 13% of people with ALS developing dementia. Research by our group has also shown that more neurological, psychological and psychiatric conditions occur in family members of those with MND compared to the general population. In particular, our research team has found evidence supporting a shared genetic origin between ALS and schizophrenia.
Genetic Pleiotropy study
Genetic pleiotropy occurs when one gene influences two or more seemingly unrelated disorders. By using neuropsychiatric, neuropsychological and behavioural profiling batteries in conjunction with genetic testing to compare family members of people with ALS with family members of people who don't have ALS, we aim to identify differences across families that might provide clues as to why ALS affects some families and not others. By performing genetic analyses on informative families, we hope to identify new susceptibility genes and biological pathways in ALS and neuropsychiatric disorders which will allow for the discovery of potential novel therapeutic targets.
Participating first and second-degree relatives of people with MND are asked to donate a blood sample and complete neuropsychological tests of memory, language and thinking. These tests will be carried out online or at the participant's home. They are also asked to complete an online questionnaire on their thoughts and feelings. As this work is research based, we cannot provide you with the individual results of genetic studies performed on your DNA or the results of neuropsychological tests.
Volunteering: If you are interested in taking part in this research or have any questions about this project, please email Sarah Darcy ([email protected]) or Colm Peelo (peel[email protected]) or phone 01 809 2018 (office) or 089 4123308 (mobile)
The MetALS study: Investigating the pharmacokinetic properties of toxic metals and heat shock proteins as risk factors in Amyotrophic Lateral Sclerosis
Exposure to toxic metals has been frequently suggested as a risk factor for ALS in epidemiological studies and studies of occupational exposure. Toxic metals can affect a wide range of biological processes of relevance in neurodegeneration, including causing the generation of reactive oxygen species, mitochondrial toxicity and disruption to the neuronal cytoskeleton, and cytoskeleton toxicity has been implicated in ALS via TDP-43 mechanisms in most cases of ALS. Additionally, toxic metals are known to be an exogenous trigger of the heat shock response, and serum heat shock proteins (HSP's) have been reported to be elevated in ALS patients. Longitudinal trends of metals and HSP concentrations are likely an important unrecognized factor, and the dynamic nature of toxic metal exposure has been rarely considered in ALS studies. However, to date, data from longitudinal sampling of toxic metal biomarkers in ALS patients, and in healthy individuals, is lacking.
The aim of the MetALS study is to collect single time point as well as longitudinal blood and urine samples from ALS patients and control participants for the purpose of lab measurement of toxic metals and potential ALS biomarkers such as creatinine and heat shock proteins. Statistical modelling will be performed to determine if longitudinal trends differ in patients vs controls, to determine the prognostic importance if any of toxic metal concentrations, and to explore longitudinal heat shock proteins concentrations as biomarkers of progression in ALS.
Principle Investigators: Prof Orla Hardiman1, Dr. James Rooney1,2
Collaborators: Dr Stephan Böse-O'Reilly2, Dr Stefan Rakete2
Academic Unit of Neurology,
Room 5.43, Trinity Biomedical Sciences Institute
Trinity College Dublin, 152-160 Pearse Street, Dublin 2
Ireland
Institut und Poliklinik für Arbeits-, Sozial- und Umweltmedizin,
Klinikum der Universität München, LMU München
Ziemssenstr. 1, 80336 München
Study Sponsor: EU Horizon2020, Marie Skłodowska-Curie Action Grant Number: 846794 — MetALS — H2020-MSCA-IF-2018
Volunteering: If you are interested in taking part in this research or have any questions about this project, please email James Rooney ([email protected]) or Gráinne Geoghegan
Multicentre international epidemiological collaborations
To date, the vast majority of epidemiological studies of ALS have been performed in populations of European ancestry. Despite this, there is evidence to suggest that the incidence and clinical characteristics of ALS varies across populations which may be partially due to differences in the genetic composition of the population under study. In contrast to the Irish populations, some Latin American populations have more varied ethnic origins. By comparing the clinical features of people with ALS across South America (Cuba, Uruguay and Chile) with those from European populations , the LAENALS consortium (Latin American Epidemiological Network for ALS), aims to further our understanding of how differences in population genetics impact  ALS risk and clinical manifestations. This work is being led by the Irish ALS Research Group and builds on the previous research by the EuroMOTOR consortium of which Ireland is a part. The ultimate goal is to combine the European and South American data for comparison. More information on the original work and findings of the EuroMOTOR consortium can be found here
A recent presentation of some of our epidemiology work can be viewed by following the link below:
ALS Incidence in Europe: What we can learn from population based registers.
Researchers: Dr. Marie Ryan, Dr. James Rooney, Mr. Emmet Costello, Dr. Sarah Darcy, Mr. Colm Peelo, Ms Gráinne Geoghegan, Ms. Georgia O'Sullivan
Principal Investigators: Professor Orla Hardiman, Prof. Niall Pender
Collaborators: Dr. Russell McLaughlin, Professor Sharon Abrahams (University of Edinburgh), Dr. Patricia Lillo (Chile), Dr. Carlos Ketzoian, Dr. Abayubá Perna and Dr. Jochen Hachembruch (Uruguay), Dr. Tatiana Zaldivar, Dr. Joel Gutierrez and Dr Gloria Lara (Cuba), Prof. Giancarlo Logroscino (Italy), Dr Stephan Böse-O'Reilly (Munich),  Dr Stefan Rakete (Munich).
Funders: Research Motor Neuron (RMN), Science Foundation Ireland (SFI), the Irish Motor Neurone Disease Association "Ice Bucket Challenge", Center for Disease Control and Prevention, EU Horizon2020
MRI
Magnetic Resonance Imaging in MND
The diagnosis of Motor Neuron Disease (MND) does not require a brain scan. However, most patients with MND have a routine Magnetic Resonance Imaging (MRI) scan during their initial investigations to exclude possible alternative diagnoses.
Contrary to routine clinical scans, dedicated research MRI techniques provide unique insights into subtle changes, and it is now possible to visualise the internal 'wiring' of the brain. We use a dedicated research MRI scanner that generates very high-resolution images. This is similar to using a top-of-the-line digital camera with many 'megapixels' that reveal much more detail.
By scanning patients with an established diagnosis of MND we can not only identify which brain regions are affected, but also measure how much these areas are involved. We sometimes invite patients to return for a follow-up scan to evaluate progressive changes over time. Our work has already led to a number of interesting results. We identified subtle changes in brain regions that control voluntary movement and showed that these focal changes contribute to physical disability. We also identified pathology in non-motor brain regions which is likely to contribute to the considerable differences in the symptoms experienced by individual MND patients. We have published our findings in peer-reviewed scientific journals, shared our observations with our European and North-American collaborators and presented our results at international conferences. In addition to pursuing academic research studies, our objective is to develop viable diagnostic and monitoring protocols to aid individualised patient care and improve pharmacological trial designs.
We would like to thank the generosity of all patients with MND who have already participated in our MRI studies, and we would be delighted to provide further information for patients who may be interested to participate in this research study. Contact email: [email protected]
For a recent presentation of some of the work associated with our MRI research strand, please click on the link below:
The preferential involvement of thalamic nuclei in ALS: a multimodal neuroimaging study.
Researchers: Dr. Ranga Chipika, Dr. Stacey Li Hi Shing
Principal Investigators: Professor Peter Bede
Our sponsors: Health Research Board, Irish Institute of Clinical Neuroscience, EU-JPND, the Andrew Lydon scholarship, the Iris O'Brien Foundation.

EEG
Developing Biomarkers for MND/ALS using Neuro-Electric Signals (EEG)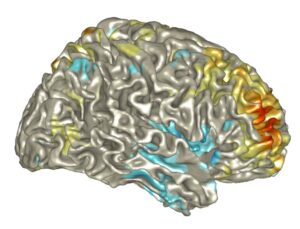 By recording EEG signals during tasks and at rest, the Signal Analysis Team can identify how ALS affects brain function in specific areas and investigate if such abnormalities can be used for new diagnostic tests or to improve the design of clinical trials.
Motor Neurone Disease (MND) causes damage to specific nerves involved in muscle control, called motor neurones. These nerves carry messages from brain regions responsible for movement to the muscle controlling those gestures. MND can also result in changes in other regions, such as those responsible for behaviour and cognition.
The brain is organized to work as networks consisting of interconnected brain cells. Therefore, damage in specific parts of the brain in MND/ALS, disrupts the brain networks more broadly. The degeneration of brain cells (neurons) and the dysfunctional networks are manifested as symptoms affecting movement, breathing, behaviour and cognition.
One way to measure the activity of such networks is to use neuroelectric signals such as EEG (electroencephalography, also referred to as brain waves). It is a painless inexpensive procedure using small flat metal discs, called electrodes, attached to a cap worn over scalp. Those electrodes detect electrical activity and oscillations in the brain. The next step is to find what brain regions are activated, and how those regions are connected with each other. The measurements of neural signals including EEG and muscle activity (EMG) take place when individuals are at rest (resting-state), when they perform movement tasks or cognitive tasks.
Our aim is to develop novel tools using EEG for the diagnosis of disease categories and measuring the efficacy of new drugs for ALS/MND.
We explore whether we can detect the abnormalities within and between different brain networks in people with ALS/MND using this EEG technology. Changes in the activity and neural communication in specific brain networks can identify different subtypes of ALS/MND that is not yet known to clinicians. Correlating these network disruptions with changes on MRI scanning, psychological testing and genetic profiles can give us a powerful set of tools that will help us to identify groups of patients with different disease characteristics.
Abnormalities within and between different brain networks in ALS/MND patients can be used as a marker to make sure that when we develop new drugs, its efficacy is accurately measured, and they are matched to the needs of different subgroups of people with ALS/MND.
Some recent presentations of our work can be viewed below:
Improving the diagnostic utility of EMG measures as biomarkers of Motor Neuron Disease using multivariate discriminant analysis.
Spectral EEG measures identify clusters of ALS patients not discoverable by clinical data.
Cognitive and Auditory Cortical Network Oscillations are Abnormal in ALS.
Applications of Surface EMG Arrays for Identification and Tracking of Motor Units in Amyotrophic Lateral Sclerosis.
Longitudinal changes of functional networks disruption in ALS: a resting-state EEG study.

Test-Retest Reliability of EEG markers of Cognition.
Abnormal EEG Connectivity during Resting State, Motor Planning, and Motor Execution in Amyotrophic Lateral Sclerosis.
Researchers: Ms Roisin McMackin, Dr Amina Coffey, Mr Stefan Dukic, Dr Lara McManus, Mr Saroj Bista, Ms Rosie Giglia, Mr Matthew Mitchell, Ms Marjorie Metzger, Mr Vlad Sirenko,
Principal Investigators: Professor Orla Hardiman, Dr Bahman Nasseroleslami
Collaborators: Dr Edmund Lalor, Professor Madeleine Lowery, Professor Richard Carson, Professor Muthuraman Muthuraman (Germany).
Funders: Health Research Board (HRB), Research Motor Neuron (RMN), Thierry Latran Foundation, The ALS Association, Science Foundation Ireland (SFI) and Irish Research Council (IRC).
Volunteering: If you are interested in taking part in this research or have any questions about this project, please email Roisin McMackin ([email protected]) or Amina Coffey (coffeya1@tcd.ie) or phone 01 896 4376 (office) or 089 488 7098 (mobile).
Transcranial Magnetic Stimulation
Developing Measures of MND/ALS using Transcranial Magnetic Stimulation (TMS)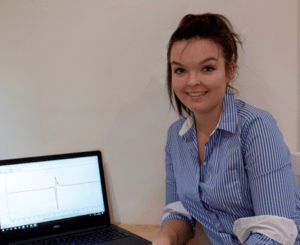 Roisin McMackin, who performs our TMS research, demonstrating data from this study
The motor neurons of the brain which deteriorate in MND work within networks of interconnected cells. Therefore MND/ALS symptoms may not only result from the loss of motor neurones but also other brain cells which control them. One way to measure the activity of the cells in these networks is to use TMS (transcranial magnetic stimulation). In this non-invasive procedure magnetic stimuli are delivered to hand movement-controlling cells in the brain. These magnetic pulses cause the cells to activate, sending a message to the hand muscles they control to very briefly contract, felt as a twitch in the hand. By measuring these twitches with sensors over the skin, we obtain a numerical measure of how well these cells in the brain are working, and how their function is different in those with MND.
This may provide us with more information about how motor neurons and other brain cells contribute to the disease process. Such measurements have already been extensively investigated in MND in Australia. As a result they are starting to be used in the MND diagnosis process and testing of new drugs in clinical trials. Therefore, we are now researching them further in Ireland to improve our understanding of MND and look for measurements which can improve speed of diagnosis and testing of new drugs.
A recent presentation of this work can be viewed by following the link below:
Developing Biomarkers of Focal Network Disruptions in ALS Using Threshold-Tracking Transcranial Magnetic Stimulation. 
Researchers: Ms Roisin McMackin
Principal Investigators: Professor Orla Hardiman, Dr Bahman Nasseroleslami, Professor Richard Carson
Funders: Health Research Board (HRB), Research Motor Neuron (RMN), Science Foundation Ireland (SFI) and Irish Research Council (IRC).
Volunteering: If you are interested in taking part in this research or have any questions about this project, please email Roisin McMackin ([email protected]) or phone 01 896 4376 (office) or 089 488 8697 (mobile).
Patient and Caregiver Experiences
What is patient and caregiver research?
A diagnosis of MND means different things for different individuals and families. There is no doubting, however, that it transforms the lives of the person with MND and their loved ones.
Over the past number of years, the Research Motor Neurone (RMN) team have carried out studies looking at the experiences of Irish people with MND and their caregivers. In doing this kind of research we aim to
listen closely to patients and caregivers
develop care pathways and supports based on what we have heard
engage in a compassionate way with patients and families that give of their time to take part in research.
Studies of patient and caregiver experience fit under the umbrella of Health Services Research (HSR). Health services research is a multidisciplinary field of enquiry, both basic and applied. Health services research sits at the interface of medicine and human sciences. It asks questions about issues such as how people access healthcare, and how they experience health services. It also looks at how individual, social, and other factors impact on people's experiences of living with an illness and providing care.
Why is it relevant to MND?
Motor neurone disease is a complex condition; it progresses in different ways for different people. It impacts on each person's physical health and wellbeing in particular ways. The effect of the condition on a person's family and social system also varies depending on their circumstances.
Since there is currently no cure for MND, treatments focus on maximising the length and quality of life of those living with the condition. For this reason, it is important to ask questions such as
what helps people with MND to live as well as possible?
what supports and treatments make a difference to patients and families as MND progresses?
what matters to people with MND at different stages in the condition?
what helps people with MND and their families at end of life?
A related area of research in the RMN team is around the changes in thinking and behaviour that can emerge in MND. This work is covered in the neuropsychology section under the research tab on this site.
What research is happening?
Since MND is a complex condition, our approach to research in MND reflects this. We use a mix of different research methods and designs. We have a variety of researchers with different backgrounds and experience on the team.
Past and current projects are listed below.
Living and dying with Amyotrophic Lateral Sclerosis: A Population based Analysis of Palliative Needs, Services and Outcomes in non-malignant terminal illness.
Partners in A Programme for ALS Care in Europe, a project which is following patient and caregiver experiences across Europe to learn about people's needs and what helps at various stages in the condition. For a recent presentation of some of the work on this project please watch this short video; Individual Quality of Life among Spousal ALS Patient-Caregiver Dyads
Behavioural Changes in ALS: What Families Need to Know, an educational project for patients and families about changes in thinking and behaviour that can occur in MND.
Defining and Addressing the Complex Needs of ALS Caregivers, a project that seeks to understand caregivers experience and how changes in thinking and behaviour in MND impact on caregivers. This work was carried out to help us to understand of what kinds of supports are needed by caregivers at different stages in the condition. For a recent presentation of this work please follow the link below; Longitudinal Analysis of Psychological Distress in Motor Neurone Disease Caregivers.
A Randomised Controlled Study of Psychological intervention in ALS to Address the Significant and Complex Mental Health Needs of Caregivers, a study looking at groups for caregivers and what works best to support their needs at various stages in the condition. Clinical psychologist Ailín O'Dea and researcher Caroline Wheeler have been running groups and are now looking at the findings from these groups. For recent presentations describing some of the work on this project please watch these short videos;

Preliminary Qualitative Analysis Of Focus Group Interviews Accessing Amyotrophic Lateral Sclerosis Caregivers Experiences Of Group-Based Interventions.

Taking the Scenic Route: Discussion on Adapting a Group Intervention RCT for ALS Caregivers to Online in Response to COVID-19.

The IMPACT ALS European Survey Industry Funding On-line survey about living with ALS, approaches to treating ALS, demographics, and caregiver-specific perspectives. Participants: people with ALS (individuals and with assistance as necessary), caregivers (current, former, bereaved); anonymous survey. For a recent presentation of some of the work on this project please watch this short video: People Living with ALS and their Caregivers' Input into Drug Development in Europe.
TiM Ireland HRB funding, we are modifying, implementing and evaluating a new patient/caregiver-oriented telemedicine system developed by our collaborators in Sheffield University, to provide immediate virtual support for those with Motor Neuron Disease (MND) and Frontotemporal Dementia (FTD) and related conditions. We will examine the strengths and opportunities for modification of this system, tailoring it to enhance care for Irish patients and their families. For further information on some of the early work on this project please watch the following short presentation: Management of Vulnerable Patients During the COVID-19 Pandemic.
Funders: HRB (Health Research Board), JPND (EU Joint Programme – Neurodegenerative Disease Research), ALSA (ALS Association). Cytokinetics, Biogen, Ionis
Researchers: Dr. Ailín O'Dea, Ms. Caroline Wheeler, Ms. Eilís Conroy, Ms. Sile Carney, Dr. Sinead Maguire, Ms. Polly Kennedy.
Principal Investigators: Professor Orla Hardiman, Dr. Miriam Galvin, Dr. Niall Pender.
Collaborators: Professor Anthony Staines (Health Systems, DCU); Professor Charles Normand (Health Policy and Management, TCD); Dr. Regina McQuillan (Palliative Care, St. Francis Hospice, and Beaumont Hospital); Ms. Bernie Corr (National MND Clinic, Beaumont Hospital); Dr. Katy Tobin (School of Nursing, TCD), Professor Christopher McDermott (Sheffield Institute for Translational Neuroscience); Professor Zachary Simmons (Penn State Hershey Medical Center, Pennsylvania); IMNDA; ALSCarE consortium partners. Dr. Tom Burke; Dr. Jennifer Wilson O'Raghallaigh (Beaumont Hospital); Prof. Leonard van den Berg (UMC Utrecht); Prof. Ammar al Chalabi (Kings College London)
Neuropharmacology and Drug Development
The Neuropharmacology and New Drug Development Group within the Academic Unit of Neurology Trinity College Dublin (TCD) School of Medicine is located in the Trinity Biomedical Sciences Institute.  Here, the group is currently carrying out cutting edge research to develop a novel compound that has exciting potential to provide innovative treatment for MND.  This novel compound (JAK4D) was discovered by Dr Julie Kelly, a Research Associate Professor of Neurology, through her Wellcome Trust-funded research at TCD and is protected by composition of matter patents.  New effective drug treatments for MND are urgently needed.  The design of effective drugs is made difficult by the complex pathology of MND, which involves multiple biological factors and processes.  It is now recognised that a drug capable of targeting several of the pathological processes that give rise to MND offer greater prospects for achieving therapeutic benefit compared to a drug targeting only a single disease factor.  JAK4D and related compounds have the potential to offer such an advantageous multifaceted strategy and research is ongoing within the Group to progress the development of this innovative approach. 
Researchers: Dr Julie Kelly, Gillian Slator, Ms Roisin McMackin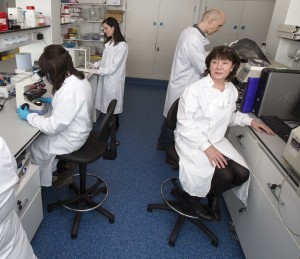 TRICALS

TRICALS is the largest European research initiative to find a cure for ALS to date. 40 top research centres in 14 countries have joined hands with patient organisations and fundraisers to reach our one goal: find effective treatments for ALS. Research Motor Neurone and the ALS/MND Research Team at Trinity College are delighted to be involved in this exciting initiative which sees the very best experts from top research centres around the globe teaming up with patient organisations, fundraisers and pharma companies in a unique international collaboration to find a cure for ALS. 
Amyotrophic Lateral Sclerosis (ALS) is a complex and fatal neurodegenerative disease. The disease is variable between individuals, making every patient unique. It is therefore unlikely that any single scientist, approach or country will be able to find new and effective treatments by themselves. 
By uniting our efforts, resources and talents, we will be quicker in realizing our shared ambition: to find effective treatments for ALS. Therefore, patients, top ALS experts and ALS foundations / charities from 14 countries have now joined hands in this unique collaboration on an unprecedented scale. 
The success rate of clinical studies testing drugs for ALS has been disappointing. Promising findings from genetically modified animal models have proven difficult to translate to patients due to the complexity and variability of ALS in humans. TRICALS (Treatment Research Initiative to Cure ALS) therefore believes that a radical change in the direction of research is required. 
The future must focus on providing effective clinical studies that are designed for subgroups of patients who share specific aspects of the disease. At this moment, however, less than 5% of patients with ALS are eligible to participate in clinical trials. Our goal is to change this, and to give every patient with ALS access to clinical trials, regardless of how long they have had ALS or the type of ALS they have. By doing so, we can accelerate the search for finding effective treatments for ALS patients. Find out more about how we plan to do this by visiting our website The highway towards a cure – TRICALS 
Clinimetrics
Clinimetrics
is the term given to the discipline that examines the quality of clinical measurements. This area is of obvious importance in Motor Neuron Disease which affects many areas of the body. We know that there will be a decline over time but that individuals will be affected differently, and rates will vary. Some will have a rapid progression of muscle weakness in the limbs and some of the swallowing and speech functions. Measuring these rates accurately and carefully gives scientists more precise understanding both of the disease and of the experimental treatments that are constantly being trialled.
Clinical measurements also allow the health care disciplines to make informed decisions on the optimal care for an individual with Motor Neuron Disease. We also believe that the rate of change is an important parameter to measure. For example if we make two measurements over time and see little change, we know that the rate is slow but if a large change is observed, it may be time to intervene with a treatment that can help.
Our group focuses on three main areas
Measurement of Lung (breathing and coughing) function
We are conducting studies with European Partners in Belgium, Italy, UK, and The Netherlands to measure lung function over time. We have just completed a two-year study in which we measured lung function over 2 years in 287 participants. We have a large dataset now which will allow us to understand in great detail the impact of Motor Neuron Disease on breathing and the subsequent effects on the individual's quality of life. Since the onset of the COVID-19 pandemic we also moved rapidly to assessing if it is possible and practical to measure lung function at home. In these evaluations, an individual with Motor Neuron Disease received their own equipment at home to measure their lung function. Then using tele-consultation, a health care professional coaches them through the test and the results can be discussed and a treatment plan decided upon.
Currently we are also investigating new materials that might become easier ways of measuring breathing function. With our engineering partners we have looked at nano-materials and magnetic technologies to see if these could be harnessed to measure lung function in a less obtrusive but equally accurate way to current systems.
Measurement of Physical Function.
Physical functions include walking, climbing stairs, washing, dressing, driving, writing, talking, swallowing. Breathing is also a physical function (covered above).
The focus of our research in this area is to utilise technology to make sure that the measurements we can obtain about physical function from individuals are exact, can be taken remotely, and are un-obtrusive and easy for the patient and their family. The availability of low-cost sensors and improved technology in homes (computers, electronic tablets, smartphones) means there are huge opportunities to track physical function more accurately. This in turn will improve our understanding of how Motor Neuron Disease affects physical function and inform clinical decisions and treatments. We partner with electronic engineers and computer scientists to investigate how technology can provide us with this information and how we can best process it to improve care.
We also are investigating the use of wearable sensors to track physical activity and how it changes in Motor Neuron Disease. It is exciting to see new wearables that are designed to track fitness coming onto the market at lower prices than the expensive lab-based movement analysis systems that we historically used.  Being able to "see" in real life how individuals with Motor Neuron Disease are managing physical activity and deciding what measurements are most useful is one of our research priorities. For example, it may be that step count is important, or perhaps heart rate, or time spent sitting that will best allow us to track the disease.
Our ultimate aim is to be able to provide the right and effective treatment (be it a nursing intervention, a pharmacological (drug) intervention or physiotherapy, occupational therapy, speech and language therapy) at the right time.
Rehabilitation Interventions
Rehabilitation is essential for those with Motor Neuron Disease. There is often uncertainty at the time of diagnosis about the role of exercise and how much or little individuals should do.  As the disease progresses, so do the rehabilitation needs. A focus of our group is to understand the problems associated with rehabilitation, be they problems of access or effectiveness and to develop technology that will help those with MND to participate in exercise programmes safely and with the best exercises. We are planning to build a digital platform which can be a go-to for those with Motor Neuron Disease to get a personalised and effective exercise programme delivered straight to their smartphone to assist them.
Some recent presentations of our clinimetrics work can be viewed by following the links below:
Correlations between measures of ALS respiratory function: Is there an alternative to FVC?
Evaluation of Remote Respiratory Testing implemented in response to the Covid-19 pandemic.
Development of Novel Dexterity Device for Finger Tapping Test
Principal Investigators: The team is led by Dr. Dara Meldrum and Dr. Deirdre Murray.
Collaborators: We work with electronic engineers, computer scientists and are part of a large European network of researchers who meet regularly to share ideas, conduct studies together and plan further research
Funders: We have received funding from the Health Research Board of Ireland (HRB), Research Motor Neurone, Cytokinetics, Enterprise Ireland and the Irish Research Council.