The MND Study Day for healthcare professionals took place again in Beaumont Hospital on Friday 17th November. The event was organised as part of an effort to share the insights gathered through clinical experience in the MND Clinic and elsewhere, as well as the findings of some of our research, with health professionals from around the country who naturally come across people with MND less frequently. The goal of sharing these insights is to provide these healthcare professionals with useful information that might help them feel less isolated in their practice when they are caring for someone with MND.
The study day was really well attended by about 170 people from a diverse range of healthcare professionals including physiotherapists, dieticians, speech and language therapists, occupational therapists, nurses, palliative care specialists and many more. There were talks given on current research, complex case end of life management, overview of IMNDA services and the everyday impact of cognitive changes in MND. Speakers included Prof. Orla Hardiman, MND Nurse Specialist Bernie Corr as well as several researchers looking at the caregiver burden, quality of life and palliative care issues in MND. Further speakers included healthcare professionals from Beaumont who deal with people with MND on a daily basis, e.g. physiotherapist, SLT, OT, dietician and psychologist. The day culminated in a series of parallel workshops in the afternoon. These included 'Nutrition Management', 'Secretion Management Strategies' and a practical demonstration of the cognitive screening tool the ECAS.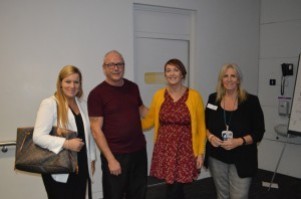 Thanks to all those who attended the day. Thanks to all the speakers on the day, both from within our team and from further afield. A special thanks to the family members who came in to share their unique perspective. Thanks to Respicare for their kind sponsorship of the lunch, to Beaumont Hospital for hosting and a huge thanks to the IMNDA for supporting and attending and indeed participating in the event to help make it a huge success.